Menachem Kuchar
Photographer

Faces in Li Jiang, Yunnan Province, China
A photograph captures a fleeting moment, something occurring only once and in an instant, a thing that as it occurs, even the actors on the stage barely notice, if at all. What they do not perceive, the camera captures.
One of the most fun times I've had recently was on a Thursday afternoon in LiJiang, Yunnan Province, China, a city sitting 2,400 metres above sea level. The local population is Naxi, Tibetan and Han Chinese and many visitors from all over China pass through.
I wandered into the old town square at about 4:30 p.m., with a 70-200mm lens mounted on my camera, and a high quality matching doubler in my pocket, giving me a focal length reach of 400mm, well into the super telephoto range.
I was also equipped with a new monopod. I had only used it once before, on a day trip to Petra a couple of months earlier. Until today, I dutifully carried it around with me wherever I ventured, but had rarely connected it to my camera.
On my arrival to the square, I was still not quite sure what I was going to shoot. Local faces were certainly on my mind, but exactly how I was going to achieve this was not yet clear. I walked around a little, shooting here and there with the 200mm lens. I settled down on one of the low stone walls built around the trees. This would keep the sun off my face, making the summer weather more bearable, and also allow me to invisibly peruse the scene without raising alarms. Many others lounged also in the shade of these trees.
Sitting in one place, I captured portraits of passersby. As most people were on the move through the square, I generally had only one bite at the cherry. I set my camera to a mode I had not used previously, allowing continuous focus on my subjects as they crossed my line of view. Occasionally my subjects lingered, even slowly turning, allowing me to capture them multiple times and from different angles.
I didn't notice at first, but the guy sitting next to me was also cradling an SLR. I soon realised that he was one of the professional photographers working the square. They photographed people paying to ride the ponies, and also visiting ladies who dressed up in the traditional clothes of the local Naxi people.
As we looked at each other's cameras, an immediate "professional" bond formed. The lack of a common language only increased our friendship. We examined each other's cameras, pointing out various features to each other. Every time I took a photograph, he wanted to see it on my preview screen. He generally gave me a big smile and a "thumbs up". Sometimes he was rolling on the floor laughing. He introduced me to his colleagues, one of whom insisted on scrolling through my entire day's work, gesticulating approvingly at many frames, sometimes laughing heartily at my perception.
At one point, as I was peering through my viewfinder searching further prey, my friend became very animated, tapping my shoulder. I followed the direction of his gaze and saw some very interesting looking faces in my field of view. My new friend has just become my assistant, my partner. He and I laughed so much, without verily a word passing between us. I spent about an hour and a half in his company, happily snapping away; part of the fun was certainly his company. I only left when the light began to wane.
As I had had such a great time, and produced much interesting work, I could not resist returning the next afternoon. I elected to sit in another part in the square, allowing me a different perspective and a variation in the direction of the light. As it was after 5 p.m., the sun had commenced its westerly descent; as sunset was at about 8:45, there still ample ambient light.
After not more than ten minutes had elapsed, my "friend" spotted me and dragged me over to "his" tree, back to his colleagues, pushing other people off the wall to make room for me. How could have I have entertained thoughts of sitting with others, with strangers?
I spent another ninety wonderful minutes in his company. I then bid him a sad farewell, as I knew I would not be repeating this again, at least not for another few months.
When we were kids, we used to say that all Chinese "look the same". While it is true all Chinese parents know their offspring will have straight black hair and brown eyes, the similarity ends there -- and as you will see here, even hair can be modified. In fact Jill and I continuously met indigenous people who reminded us of people we knew in the West.
Please enjoy my photographs of the Chinese.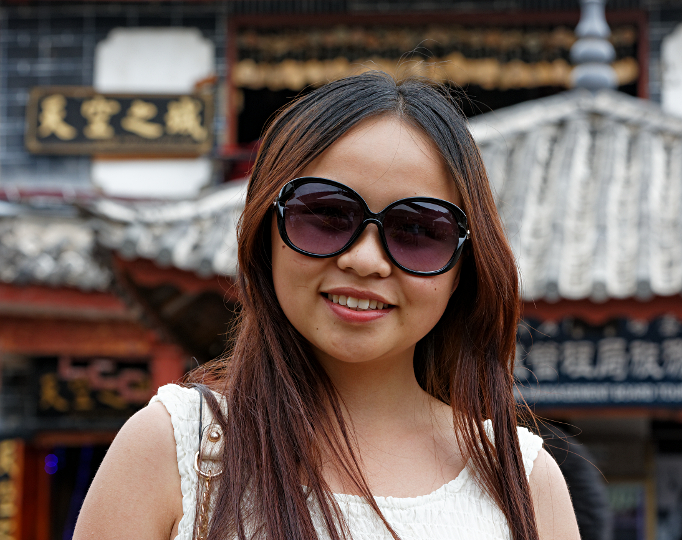 ---
These sponsored links arrive via 3rd party feeds. We have no control over their content.
If they interest you, please feel free to click and see -- your interest in these advertisements covers our site expenses.