Menachem's Writings
The Road from Prešov to Košice
A Mere Sixty Kilometres or an Eternity?
Over the last couple of years, I have written a number of essays about both my mother's and father's families. Since my mother's recent passing, I intended to write about her and her family. But it hasn't yet materialised into words. Maybe I am still too close to the event to express what I have inside.
I realised that my mother may have preempted me a little when we found her autobiography in her house during the shiva mourning period. However her text, seemingly written about five years earlier, is quite short. There is much more to relate.
There is one story in our family which I have been wanting told for many years. As it largely revolves around my Aunt Bozsi, I really wanted it in her words. Over the years, I have asked her a number of times to write her unique biography. She knows it is a singular experience, but try as I might, I have been unable to sufficiently inspire her for the project.
Even when she started to go blind from macular degeneration, a condition which now appears to be endemic in our family, I did not give up. I offered to procure for her a dictation machine into which she could relate her chronicles. I promised to prepare a manuscript from these tapes, and we would edit it together. It's probably my fault that I wasn't forceful enough on the issue, but I do have the disadvantage of living far away, I in Israel and Bozsi in Montreal, Canada.
I write because I have an uncontrollable urge to bring things from deep inside, out into the light of day. I feel strongly that I must relate and publish the story which she has not. And if I get things wrong, I will simply retort, "I gave you the opportunity, but you left the gauntlet in my incapable hands".
Perhaps the reason I am doing this now is that my aunt's story obviously overlaps that of my mother's, and more importantly, it sets some background to my mother's family life. It allows me to be a little detached from her story, that which I eventually intend to compose.
A warning. All families have skeletons in their closets as do many individuals. I make no apologises to any of my cousins who may be in any way offended by what I say about their antecedents. What I write is a medley of things I have heard over the years, without significant variation, from many family members.
Going back a few of generations ... my great grandparents were Israel and Yitta (nee Englander) Treitel. At some point in time they moved from Kurima in Slovakia where he was born and where they lived after their marriage, to Prešov, the third largest city in Slovakia (which in 2006 when I visited still only had 60,000 people). I don't have an exact date, but it appears to me to have been prior to World War I. The city had a very old Jewish community. Israel and Yitta were married around 1890 and had nine children, six girls and three boys. My grandmother, Regin/Rivka, who was born in Kurima, was the oldest. They were an orthodox family as attested by the family portrait, taken in the grounds of Israel and Yitta's Prešov home. The photograph was taken at the engagement of my great aunt, Anush*, to Bernard Goldberger, circa 1930. They settled in Bratislava after their wedding.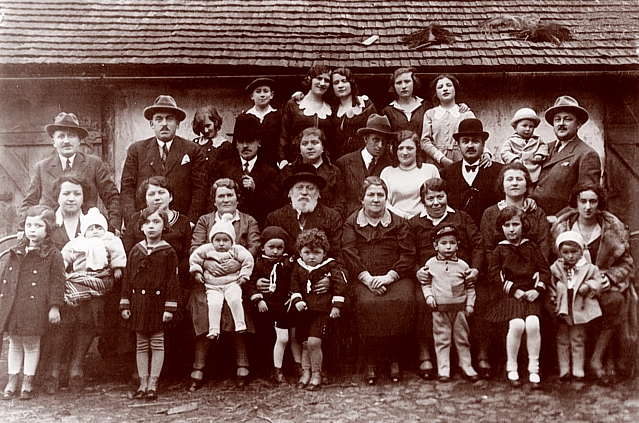 The Treitel Family
All the Treitel children are present with the exception of Uncle Nandor

Of the nine Treitel children, seven survived the Holocaust. My grandmother, and the second oldest, Berta Ehrmann, who had six children, were murdered at Auschwitz. (One of her sons infiltrated the Nyilas Hungarian brown shirts. He was discovered and ended his life at the bottom of the Danube.) Israel and Yitta passed away before the war. I have corresponded with and met all the surviving aunts and uncles, other than Vince the oldest son, at one stage or another during my life. None of them remain alive today, all of them living well into their late seventies, eighties and even nineties.

And as I am certain is the case, in even the best families (which of course ours was), two of my grandmother's siblings gave their parents a rough time (uncontrollable was one word used). These were sister, Hermin, (I am not sure exactly where she came in the family, but somewhere in the middle) and brother, Jindra, also known by the German name, Heinrich or Henrik. Jindra was the youngest of the three son, followed by two sisters.

At the age of seventeen, my grandmother married Emanuel Glück. They set up house in Košice, about sixty kilometres south of Prešov.

To alleviate some of the stresses in her house, my great grandparents sent the "two difficult cases" to stay with their oldest sister. I can't imagine how good that could have been for newlyweds' nest building, but Rivka tried her best. Jindra wasn't too interested in religion — football was a more attractive Saturday pastime.

In Košice, Jindra had a private tutor to teach him Judaism: bible, talmud, halakha etc. Jindra offered his mentor a deal. He made many successful business ventures during his life. "I don't want to be here, and you want the money. So let's split it 50-50 and I won't waste any more of your time". The tutor's response was not reported to me, but knowing my uncle, I assume the deal was consummated. Jindra eventually settled down, marrying Gita, who was from Prague, to where he subsequently relocated. Though he was the only one of his parents' offspring who was not observant, his father always eagerly awaited his visits (an eight hour train ride away). He considered him his successful son. Not that my great grandfather himself was not successful. He ran a tannery, purchasing raw hides, processing them, then selling them to furriers around central Europe. His two other sons, Vince and Nandor, worked with him. (Nandor's sons continue this business into the third generation in America.)

I don't know how Hermin and Rivka got on. But as Rivka's children began to arrive (at the rate of one every two years for the next twenty years — there were ten all in all), Hermin was very helpful in looking after them. The oldest, Anush, was born before the war. Rivka, who still had small children herself, sent Hermin to help look after the baby. During the war Emanuel was often away, a soldier in the Kaiser's army. There were four children by the end of that war.

Soon after the Great War, Hermin married Emil Preiss. She had been smitten with the dreaded Spanish Flu [H1N1] and fully recovered. She made sure everyone knew this. She was a victim, a survivor! They made their home in Prešov. As Hermin and Emil were unable to have children, she continued to help Rivka with her offspring. Whenever a new child was born, Hermin would come to Košice to help, leaving her husband at home to mind shop. This continued until at least the fifth child. I guess after that the older daughters could help.

Laci was the first boy in the family. He was born in 1917 following three girls: Anush, Etus and Magda. Probably because of the work load in the house, especially after the birth of the next child, Bozsi, Hermin took the young Laci back to her place in Prešov. He was still there, when at age five years he was afflicted with scarlet fever. Bozsi was by then two and a half.

Hermin brought the sick little boy back to his mummy. At that point Rivka was happy for Hermin to take young Bozsi back to Prešov with her. Houses with scarlet fever were quarantined, a red cord hanging from the front door, warning potential visitors. Everyone worried that little Bozsi may become afflicted. It was a good arrangement, which worked well for a while. By now, there was also Rozsi, the sixth of the Glück children, who was just a few months old.

Even though she wasn't yet three years old, Bozsi still distinctly remembers being taken away from home. She cried that she wanted to go to her mother. Hermin and Emil walked with her around the house, from room to room, pretending to be looking for her mother. "Perhaps she's in the next room?"

Even at that tender age, Bozsi remembers herself as a sad little girl. She remembers sitting quietly by herself on the stairs. Hermin called her a mope. "Of course I was depressed, dejected — I wanted to be at home, with my family, with my parents, with my siblings."

Eventually it became apparent that Hermin had no intention of returning her new charge. She had merely swapped a little boy for an even littler girl.

It was the mid-twenties and already the Preisses had a car, necessary for their business, manufacturing liqueurs. It was still quite rare at that time to have continuous access to a vehicle. It was good for Bozsi. Each Sunday the three of them would drive to Košice so Bozsi could visit her family.

And each Sunday Rivka would say to her younger sister, referring to Bozsi, "She can stay here now thank you very much". To which Hermin would shout and scream, "you have five [six, seven, eight] more and I have just this one". Then she would put on such an act, invariably ending with her threat to climb onto the roof and jump off. And each Sunday Emanuel would give in and say, "take her, go home", to diffuse the situation.

Very sad really. I unfortunately never knew my grandmother, but Auntie Hermin was one tough lady and invariably got what she wanted. She visited Sydney twice, once for my barmitzva where she took over the preparations and gave a speech at the reception.

Being an "only" child, Bozsi was showered with many things her siblings never had. She lived in a beautifully furnished bedroom, with a brass bed. Her sisters, who would come to visit and stay over during school holidays, were jealous of her "golden" bed. Bozsi would always answer that she was happy to exchange it, at the drop of a hat, for a simple white bed like they all had, to be at home with them. The Glück family lived in cramped, but happy, conditions in two small apartments located between their two grocery shops, each opening onto a different street. Bozsi craved to be cramped with them.

One advantage which Bozsi had over the others was her relationship with her grandfather. She reports they were very close. "I loved my father very much, and I really loved my grandfather a lot too." She also had a close relationship with Uncle Vince, the oldest Treitel brother, for whom she later worked in the family business, and with his wife, Auntie Regin.

People in Prešov referred to Bozsi as the "Glück-girl", a form of insult, but she wore the title with pride. In addition to her other burdens, Boszi remembers each shabath in shul having to go to the old widowed Rebetzin Jungreis, having to kiss her hand and wish her shabat shalom. As a result Bozsi hated going to the synagogue.

She also hated receiving new dresses. In those days, this involved visits to the dressmaker. "Stand straight and still." "Tuck in that tummie, little girl." Like with many other things in her life, Bozsi would also cry at the dressmaker's, but only on the inside. She had to keep her tears to herself.

Ironically when she came to Košice on a Sunday visit, wearing her new clothes, sister Rozsi would see the clothes, and immediately start crying. "I don't like that dress!" She knew she was next on the hand-me-down chain. But Bozsi always only got new things.

My mother was the seventh in the family. She often related how much she enjoyed staying over with Bozsi in Prešov. Their relationship remained extremely close until the very end. They both independently reported to me that my when mother visited Montreal, the two of them would sleep in the one bed, telling each other stories and giggling like two schoolgirls until overcome by sleep, just like the old days in Prešov.

After completing school, Bozsi continued living in Prešov, working there. By this time she had a train pass, and would come to visit her family whenever it suited her, which was quite often. These were the happiest years of her life — she now had the best of both worlds.

Until mid-1938. This idyllic arrangement began to evaporate. Neville Chamberlain brought mankind "peace in our time", sacrificing Czechoslovakia on the altar of appeasement. As a result, there was now an international frontier separating Prešov from Košice.

The continuation, perhaps, will be the next chapter in my narrative ...




* Both my aunt and my great-aunt's name is spelt Anus, pronounced Anoosh. Cousin Andrew thought it didn't look quite right having an Auntie Anus. A single s in Hungarian is pronounced sh. He thought an sh spelling looked more sympathetic to an English reader. So I modified my text here in accordance.

Menachem Kuchar, 5th May, 2010 — 21st Iyar, 5770
Edited 23rd November, 2021 — 19th Kislev, 5781


Presov Kosice


Please feel free to <!font size=-1!>and don't forget to stop by my site to look at my latest (and classic) photographs.

Enjoy!




Previous posts: