| | | |
| --- | --- | --- |
| | Menachem's Writings | |
Stay Away from Bureaucracy
It will swallow you alive.
The teachings of the mishna, the wise words of our sages, are usually just that -- wise words.
I was stupid this week to ignore what we are told in the first chapter of the "Ethics of Our Fathers" in the name of Sh'mayah, a rabbi from the middle Second Temple period, "Love [your] work, despise those who [assume to be] above you, and do not become overly familiar with [give into] government".
I truly love my work as a fine art photographer. I wish I could spent more time working on it. I love what I do and I am proud of what I produce. I may not sell a lot, but I am realistic enough to know that it is difficult to sell art. Inside me there is a nagging voice telling me that I must photograph and I must write, "You are a creative individual and you have to bring out into the world what you have inside."
As a good member of my community, I have provided my photographs free of charge to the local council, most recently as the cover of their local calendar, an image which everyone who has seen it agrees is outstanding and truly reflects our wonderful town.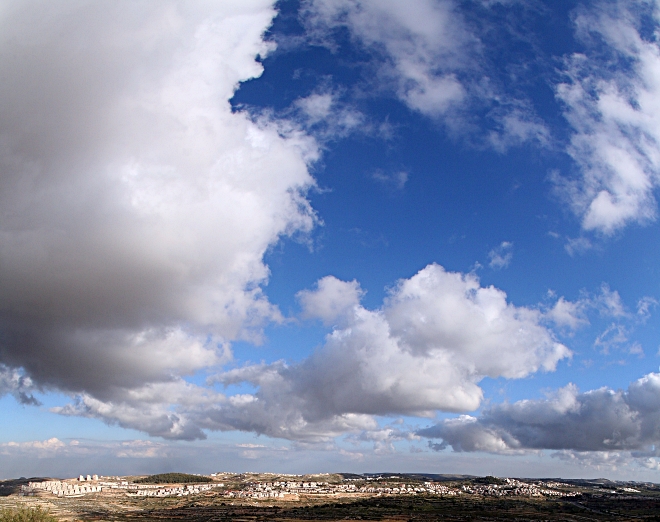 Panoramic View of Efrat Under Clouds
In addition I have photographed many events in and around our town, and allowed use of these for communal purposes with an appropriate approbation. Please feel free to view some of these at Givat Eytam and at Netzer.
So my latest experience with the municipal bureaucracy has left a very bitter taste in my mouth.
Last Tuesday, I receive a phone call from a secretary in one of the municipality's technical departments (no, not PR or similar), "You may be familiar with the new format of the local newsletter [informing residents of goings-on on our town]. In the new setup, we are featuring a 'photograph of the month' page and if you have a photograph showing the spring, we would like to publish it this month. But nothing showing blossoms."
And be warned, it must be a photograph that when 'HE' sees it, He will say 'WOW!'"
Though I do not have a clue who He (other than the obvious) is or what would cause Him to express the requisite 'Wow!', I promised I would have a look in my archives.
"And also prepare a few words about yourself to accompany the photograph. Bye"
And a minute later the phone rings again. "But don't send us a photograph from outside of Israel."
I wasn't sure I particularly wanted to do this, because the great Unknown's Wow worried me, but I thought what the heck?! We artists live on petty praise and publicity. But I was wary.
On Wednesday afternoon, I send her links to four photographs, all taken on a Tel Aviv beach in late winter. This is the one I intended her to use, but I also sent three others, shot at the same time.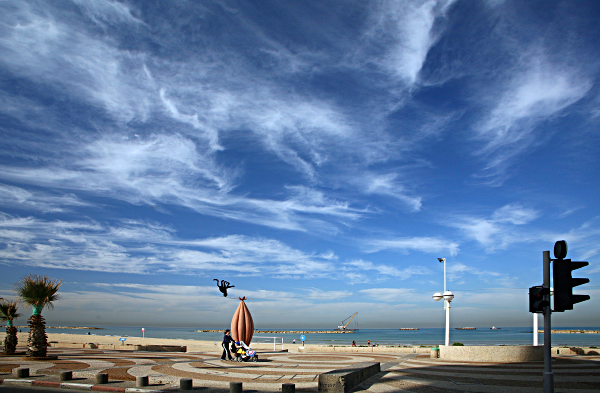 Salvador Dali with Monkey, Pram and Traffic Lights
Within half an hour she wrote back, "Thank you very much, but perhaps next time. The editor (the He?) found something else which he considers better represents the Spring.
We'll be in contact in the future."
Following receipt of this polite note, I went off to pray mincha and ma'ariv as is my custom towards the end of each day. I was very pleased with the resolution as I had had the feeling that what they previously were going to use had in the last minute fallen through and they were "using me" to fill a hole, forcing me into a position into which I did not want to enter.
As I walked back into the house, the secretary is on the phone. She's obviously working overtime as it is well after six fifteen. She's obviously under pressure from 'Him'.
"Did you find something else for us?"
"I beg your pardon."
"Did you receive my email?" I of course assumed she meant the polite pushing me off message above. No. Suddenly I realised she must have sent me another message during my one hour absence.
"You'd better tell me what you wrote."
She asked, "Maybe you can give us a photograph, in a similar style [to the Tel Aviv scenes], of something in the Gush Etziyon area?"
"I don't think I have something appropriate for you. I suggest we leave it for another time as you wrote a couple of hours ago," glad to be out of the mouth of the mousetrap.
"Please, please try."
"OK, but no promises -- please look elsewhere as we agreed earlier."
And then she adds -- now this is right off the wall -- "Please prepare the accompanying text."
"If and when we have an appropriate photograph, I'll worry about a text." I again reiterated she look elsewhere as she suggested earlier.
The next morning, Thursday, she phones a few times. She is obviously pressured. "I'm sorry, I am very busy this morning -- I may have time later, but I wouldn't count on it. We can stay friends and do this at some other time in the future".
"O.K. But please send me the text in the interim."
What bloody text!!!!?
Not long after this conversation I meet a friend, a graphic artist. "Yes they keep asking me for photographs. They pressure me. I don't like it because they will not publish my website or a contact email with my work."
"What," I say, "are you kidding? No contact info? I'm right out of here."
Mid afternoon. Another phone call, "We'll take the Tel Aviv one."
I'm tired. OK. I wrote a text, including my website URL. I have bad feelings about it, but they wear you down for their own benefit. There is a point at which human resistance is broken down by bureaucrats. They just keep badgering you, unrelentingly.
They had me and I felt bad that I had given in, but I do like the Monkey and Pram image -- it's on my lounge room wall, a 30" by 20" print. I can live with that photograph being published, though it is far from indicative of my current work.
It's Sunday. Their deadline still hasn't passed. Pity. I need to send them the image in high quality. I'm out all morning. When I return at midday, her email is waiting. "He wants this image:"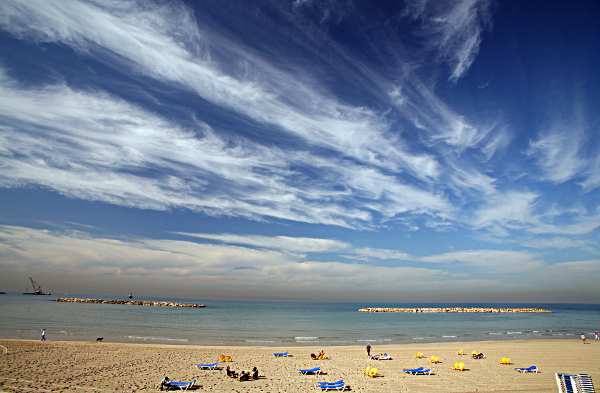 Clouds in my Coffee and Beach Chair Lyrics
Sorry -- no way. Anyway the rabbi will kill me -- there's a lady in a bikini right in the centre of the photograph.
"No-one can see it -- it just looks like a stain." Keep your insults to yourself lady!
It's the end of the day. I send the graphic artist the Monkey and Pram image, figuring they would use it.
[Today,] Monday morning. "No you sent the wrong image. HE doesn't want a picture that everyone can see is taken on Tel Aviv. And He doesn't like the traffic lights."
Right, and the other one someone may think was taken in Kirat Arba, 999 metres above sea level. "And He is away from the office all day, on a course" -- on publication day!?
"Take it back to our agreed position last Wednesday. We were on amicable terms then." You may have a problem, but leave me out of it. Take it or leave it!
Jill says I'm stubborn and now my name is mud with them. I don't care. I'm happy to be out of their clutches. Whether or not they published me this edition, they will never publish me again in this journal.
And yes, I am an artist, and I have every right to be a prima donna re my work.
Please feel free to <!font size=-1!>and don't forget to stop by my site to look at my latest (and classic) photographs.

Enjoy!
Previous posts:
---
Be part of the new Internet tapestry phenomenon:
Help us sew the Logo Quilt. Add a patch with your logo.
And add some Word Links to your site.