Menachem Kuchar
Photographer

Thank you visiting my photography site.
I hope you enjoy looking at my artistic endeavours as much as I have enjoyed creating them.
An artist's biggest thrill is publicly displaying ones work. My photographs have been included in numerous exhibitions.
Exhibition and Book Launch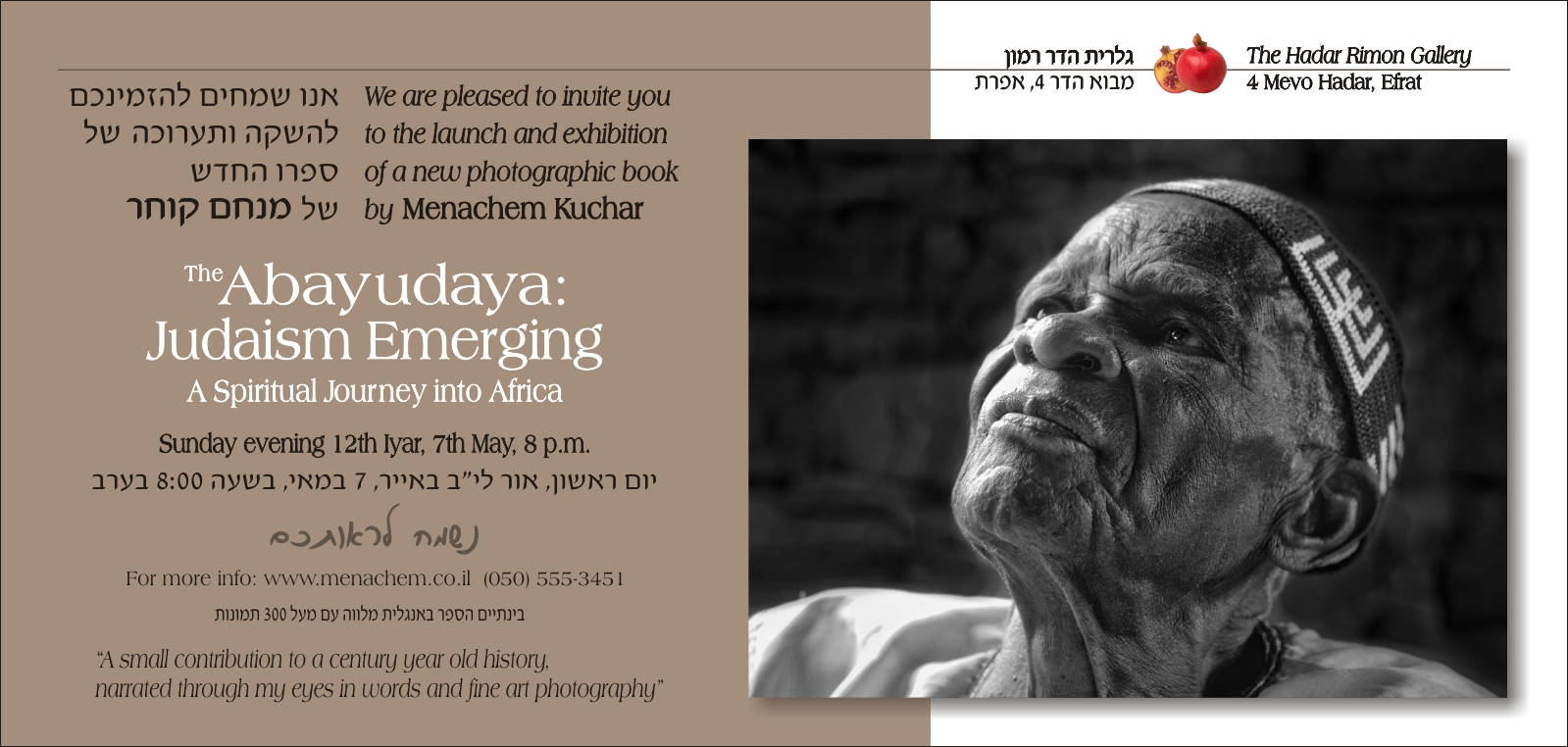 I am launching my new book, "The Abayudaya: Judaism Emerging", subtitled "A Spiritual Journey into Africa" on 7th May, 2017.
The book is a narrative told in both words and fine art photography.
An exhibition of my photography will accompany the book launch and will include for the first time, photographs I created in Iceland.
Rabbi Shlomo Riskin will be speaking at the event about our joint experiences teaching Judaism in Africa. We hope Moshe Yashiira from Uganda will also be present to speak about his community.
Please accept this announcement as an invitation to attend.
4 Mevo Hadar, Efrat
For further information please write to me.
(Books and photographs will be available for sale at reduced prices.)
---
A synopsis of the book

Interest in Judaism from outside the Jewish world as we know it, is today at a high not seen since the Hadrianic decrees. Amongst other restrictions, which followed the Judean defeat in the revolt against Rome in 135 C.E., was a total ban on conversion to Judaism on pain of death for both the convert and converters.

Times have changed — the last couple of centuries have seen the emancipation of the Jews and gradually the general acceptance of Jewish conversions; that is the Jewish side of the story. However, today around the world, more and more people are discovering and adopting Judaism on their own volition, outside of any Jewish framework. Academics estimate that there is now an equal number of wannabe Jews as real Jews.

My book relates the story of one man, a powerful and charismatic leader, who 100 years ago discovered Judaism without knowing that there was such a people or religion. Within a very short time 3,000 people gathered around him joining in his Jewish practice. With only a translation of the bible as his guide, he built a Jewish community in Uganda.

My account traces their development, their ups and downs, especially the blatant antisemitism of the Idi Amin administration which decreed many edicts, reducing the community's number to a mere handful of adherents. Only a very few continued Jewish rites in secret.

By the late eighties, they were gradually recovering. Synagogues were reopened, children were educated in their customs and liturgy.

But the community was not yet recognised by the outside Jewish world. This acceptance came slowly. I portray the Abayudaya struggle for Jewish recognition, culminating in their orthodox conversion in June 2016.

I also refer to other groups in Africa and Asia, who are traversing similar paths. Some have an historic connection to the people of Israel, but most, as occurred in the latter years of the Second Temple, feel a need to attach themselves to the God of the Torah.

The book narrates my experiences with these groups in both words and graphic photography.
In additional to photographing, I have been doing a lot writing over the last few years: photography, childhood, roots -- and basically anything/everything that comes to my attention or bothers me. Also feel free to read any of these starting at www.MenachemKuchar.com/Writings.
My latest writing has culminated in a large format 160 page book, The Abayudaya: Judaism Emerging A Spiritual Journey Into Africa
Galleries
Towards the end of 2014, I made a significant change to the way I work photographically, embracing the philosophy of Ansel Adams's previsualisation. I believe my work has changed significantly. I am modifying this home page to seperate my recent work from the older work. That's not to say that my earlier work is not good. It's great too! but different.

India & Nepal NEW!
18th July 2016

By the Dead Sea NEW!
Updated 18th July, 2016

Jerusalem Exhibition
Sept/Oct 2015

---


Cuba
Updated 17th February, 2014

Cameroon
Updated 26th March, 2014

On the Edge
Updated 14th March, 2012

China including Hong Kong
Updated 24th May, 2013

Hevron (Hebron)
Updated 7th December, 2010

Yerushalayim (Jerusalem)
Temple Mount, Kotel, City
Updated 8th February, 2011

Tel Aviv Beach
Updated 16th Jan, 2008

Safed / Ssfath / Tzfat
Updated 1st October, 2010

Thailand
Updated 4th May, 2011

Sydney's Coast
Updated 17th April, 2012

Views of Adelaide
Updated 21st February, 2011

Reflections
Updated 26th June, 2008

Spain
Updated 2nd February, 2014

Budapest
Updated 5th June, 2007

Slovakia
Updated 5th June, 2007

Samaritans Passover,Sukkoth,
Shavuoth & Mezuza
Updated 1st August, 2014

My Home Town
Updated 22nd May, 2008

In Concert
Updated 26th March, 2014

Wild Flowers
Givat haTurmussim
Updated 6th March, 2005

Rust
Updated 19th March, 2007

East Africa
Updated 8th May, 2013

South Africa
Updated 9th June, 2011

Equivalents
Updated 1st January, 2008

Capsicums -- Bell Peppers
Updated 17th April, 2012

New York City et al
Updated 13th March, 2012

Actualities
in Black & Orange
Updated 1st May, 2007

A Bus Stop
Updated 21st August, 2007

Israeli Flags
Updated 1st July, 2008

Petra
Updated 17th April, 2013

Japan
Updated 9th November, 2013

View Land of Israel Galleries
Please feel free to write to me.
You can read how my photographs have affected other people via this website
and in the Gush Etzion exhibition Visitors' Book.
You can acquire original, signed prints from this site.

Menachem
| | | |
| --- | --- | --- |
| | | |
Book

Actualities in Black & Orange



Published in January, 2006, Actualities in Black & Orange is Menachem Kuchar's long overdue first book. It illustrates the people in and behind the "Orange" Campaign in Israel during 2005.

The work represents an inquiry into contemporary Israeli life. Using his camera precisely and lucidly to record the anti-"Disengagement" movement, Menachem weaves a photographic narrative of what was happening in the background to the events being played out on the national stage. Stunningly laid out and finely printed, the book presents more than forty timely photographs from the Actualities in Black & Orange collection, fifteen photographs from the Bus Stop collection as well as colour photographs taken in Gush Katif.

Menachem's unique eye for both the monumental and the mundane reveals a vision of universal interest rooted in the everyday, yet always looking beyond. He focuses on the subtleties of human interaction to make eloquent images.

Menachem has mastered his medium. His work shows a deep love and compassionate understanding of his country, its people, their life, their problems and their needs.

Read reviews of the book.

The book is available in hardcover cloth binding, with a dust jacket, as well as a limited edition (180 copies), signed and numbered collectors' edition.
---
---
Calendar
PVAO, an organisation that provides aid to Putti with various projects used my photographs for their 2015 calendar.
You can view the calendar, with my photographs, here.
Birchonim (Benchers)
One-Man Shows
Other Shows




Orange Revolutions
The Polish Museum of Ethnography in Warsaw
Opening on 27th October, 2009





Actualities in Black & Orange,
The Begin Centre, Jerusalem
16th January, 2006
Photographs of the Exhibition
by Yehoshua HaLevi




Magazine Covers



All photographs are © copyright and may not be reproduced without permission.
Photographs displayed on this site are available as original, signed prints, produced using the latest Epson archival pigment printers and photographic papers.