| | | |
| --- | --- | --- |
| | Menachem's Writings | |
A Travelogue: Visiting the "New" Jews of Africa
1. Arrival to Africa
---
This travelogue is divided into the following sections:

Return to Israel, the long way around
---
Recently I joined Efrat's Rabbi Riskin and the "the two Aris" -- Greenspan, a dentist, and Zivotofsky, an academic -- on a visit to native Africans embracing Judaism in their home locations. The incredible thing is that they arrived at this practice without having any contact with mainstream Judaism and Jews.
Our journey took us to three countries: Ethiopia, Kenya and Uganda. The rabbi brought along his grandson, Eden, the trip being a gift for his recent bar mitzva.
Addis Ababa
Our trip commenced with a short stay in Addis Ababa, the sprawling Ethiopian capital. We had checked our luggage at Tel Aviv Ben Gurion Airport all the way through to Nairobi. You can leave the airport without luggage. No-one thought that was suspicious. The airline expects you to hang around a most boring airport for four and a half hours! The only more boring airport I once had to endure while waiting for a connecting flight, was perhaps in what was then called Bombay.
Russian-made Blue Taxis in Addis Ababa


Our first encounter with the Ethiopian airport authorities set the tone for Africa's nonchalant -- and lo-tech -- pace. Africa marches to its own drum, and it has a very slow, leisurely beat. Fortunately, as we landed at 5 a.m., we preceded the morning peak hour rush, both within the airport and eventually on the roads. The five of us entered a small room labelled "Visa on Arrival". Two ladies, sitting at a desk took out passports, handing us a form. Lots of useful information, which we were to surrender many times on this trip, was requested. Nationality, passport issue and expiry dates, occupation, birthdates . . . . Of course the requisite "address in Ethiopia" -- but we were only staying three hours. On completion of the form, the ladies sent us to a man seated at an adjacent table. We each passed him a crisp twenty dollar bill. He in turn carefully wrote each of us a receipt, using carbon paper to produce his copy. Then, armed with his receipt, back to the ladies, who stuck a full page sticker into our passports. Not a computer in sight.
I assumed this little ordeal had bought us entry into Ethiopia. We have little precious time to waste! But no -- we still have to traverse passport control. At most fifteen people are queued in two lines, one labelled aircrew on a scrawny computer printout, and a second, I assume, is for everyone else. We divide ourselves amongst the two lines. The staff queue is shorter though no faster. We started second in line but somehow another, different person always seemed to be ahead of us. After probably twenty minutes, which felt like hours, we finally arrived at the computerless counter. After a few minutes of activity in the little booth, we were finally outside, with a new stamp over the sticker. We had met Africa face on. Fortunately we had landed half an hour early -- so we were still on time for our contact.
These sponsored links arrive via 3rd party feeds. We have no control over their content.
If they interest you, please feel free to click and see -- your interest in these advertisements covers our site expenses.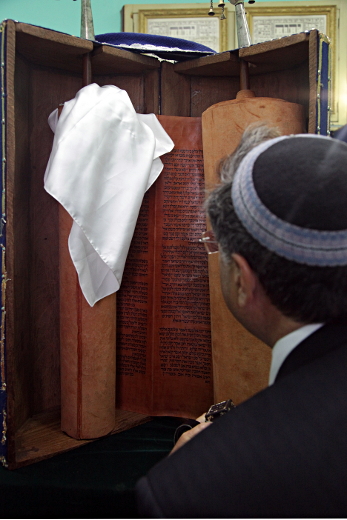 Rabbi Shlomo Riskin
reading the Sefer Torah


We were met by Menashe, an Israeli living in Addis Ababa, building roads for the Ethiopian government. He drove us to the little Addis synagogue. The sun was ready to rise over the distant Indian Ocean, but here the weather was cool, temperature of 11°C. Though we were just 9° north of the equator, the weather is pleasant as Addis Ababa sits at an altitude of 2,355 metres above sea level. In the semi darkness we noticed slow movement on the footpaths. The street people, street after street, were stirring from their slumber. A new African day was beginning.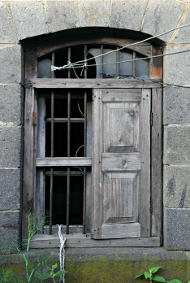 Room under the Synagogue

The shule is small, one floor up, off a courtyard used by various workshops. The interesting artefact here is a Sefer Torah reputed to be over 400 years old. They claim it is written on deer skin, though from my experience, deer parchment should be much softer. Like deer skin the parchment is a dark brown-orange. What is unique about this scroll is that it displays customs mentioned by the Rambam though not used by Jewish communities today. In our scrolls, an open paragraph, parsha, appears as empty space on the remainder of the line. In this Torah, it is represented as a blank line, something we only have between the books of the Pentateuch -- and then there are three lines.
The other unique feature appears in some of the pehs. Most are written like our scrolls, with the negative image of a beth in the centre. But here a few are written with a spiral in the centre.
Under the synagogue we saw the small dungeon-like room in which former Israeli prime minister, Yitzhak Shamir, then the head of the Lechi Stern Gang, was hidden following his escape from a British P.O.W. camp in Eritrea in 1947.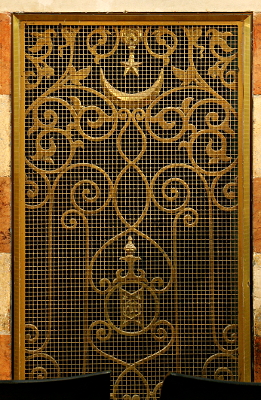 Cut off Magen David
(in lower circle)
at Me'arath haMachpela in Hevron, Kever Yitshak


After our visit to the shule we went Menashe's to house for breakfast. By now the homeless had dissipated into their new day. Little blue, Russian built taxis, ferried people around the city. On the way, we passed the massive former royal palace, now the presidential residence. Magen davids, stars of David, were built into the surrounding iron fence during the Haili Selassie era. These were shaved back by the new government, much like those in Me'arath haMechpela in Hevron. Menashe said he wouldn't stop for photographs because the guards would shoot us on sight.
We breakfasted on crackers and bread we had brought from Israel, together with humus for Menashe from his homeland. Needless to say, there was not too much left for him to enjoy after we finished our meal.
Our exit from Ethiopia was expedited when Ari informed the immigration authorities that we were accompanying the most honoured chief Rabbi of Efrat. Unfortunately a repetition of this pronouncement did not ease our entry into Nairobi.
Interestingly, or was this just another symptom of the African condition, while both airports have sleeves built into the terminal building to facilitate embarking and disembarking aeroplanes, in Addis we had to ride a bus the 150 metres from the terminal to the gangway; in Nairobi, we had to walk 50 metres from the plane, entering the terminal by climbing uncomfortably stretched stairs.
Nairobi
During the Nairobi-bound flight, the charming hostesses distributed small blue cardboard entry cards for foreigners to fill in for immigration control. We again answered ridiculous questions into the this time totally inadequate space on the card. Again we approached a counter marked "Visa on Arrival", surrendering over our passports, blue forms and this time, $25.
"Where's your white form?"
"Excuse me?!"
"You need a white form to enter Kenya!"
"Where do I get one of those? No-one gave it to us on the plane!"
"Over there", he points to a desk behind me.
I didn't do a precise comparison, but it seemed to me I was answering identical questions to those on the blue cardboard. The page was bigger -- A4 -- but the space was equally inadequate.
Eventually, in what again seemed an eternity, our computerless clerk handed back our passports, with another big visa sticker and a very carefully hand-written, carbonpaper copied receipt. We had requested a multiple entry permit which was on offer via a checkbox on the white page. We needed this as we would be leaving Kenya during our stay, for Uganda, and returning the next day. Although we all checked this option, when my passport was returned to me, it contained a "single entry visa". However it still wasn't clear what would happen on our "return" to Kenya. In the event, we did not have to pay a second time. But for now back to our first arrival experience.
Not unexpectedly, our luggage already awaited us. We still had to traverse one more gauntlet however before we could say we had arrived to Kenya -- we had to pass all our luggage though the customs x-ray machine. If an Ari hadn't been on the other side to catch my computer falling of the conveyor belt, I'd be typing this report on my retired abacus!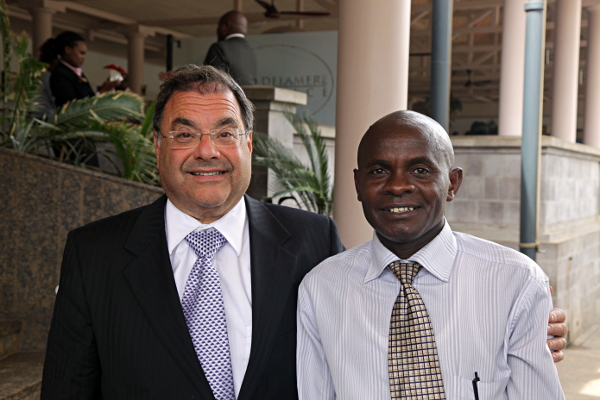 Rabbi Riskin and our driver James


On our arrival we were met by James, Dr David Silverstein's tie-wearing driver. Rabbi Riskin was so impressed by this sartorial phenomenon that he requested I photograph him with James. He wanted to show his own driver, David, how a chauffeur is supposed to dress.
We were driven through heavy traffic from the airport. Though it was the middle of the day, we were often at a standstill on six lane intracity roads. The roundabouts seemed complicated, with traffic lights in what seemed to me be in the wrong place. The middle-class explosion has greatly increased the number of cars on the roads. As we were to learn later on our trip, Kenya is spending insufficient funds on her roads.
We eventually arrive at our five star, colonial period hotel. It was really beautiful -- low buildings set in sprawling grounds, trees and grassy areas everywhere. A little over the top relative to my usual travel arrangements, but very close to the synagogue, which is located in the centre of the city, near to the Cathedral, in an area with few residential dwellings.
As our first appointment, Dr Silverstein, was waiting for us in the hotel lobby, we delayed our check in. Our African adventure had truly begun.
Feel free to view more photographs of Addis Ababa.
Menachem Kuchar, 19th July, 2011
Please enter your comments on this article to Menachem:
Previous posts:
---
And don't forget to look at my latest (and classic) photographs at www.Menachem.co.il

Enjoy!